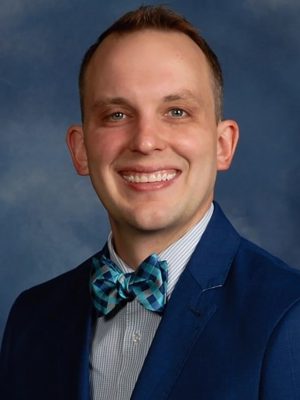 Doctor of Ministry – Duke Divinity School
Master of Sacred Theology – Yale Divinity School
Master of Divinity – Yale Divinity School
Bachelor of Arts – Missouri State University
Nonprofit Finances Certificate – Cornell University
Find out more about Caleb on his personal website:
Rev. Dr. Caleb J. Lines holds standing in the Christian Church (Disciples of Christ), the United Church of Christ, and the Progressive Christian Alliance. He has a passion for pursuing social justice for the marginalized, demonstrating the Good News of God's radically inclusive love, and proclaiming a relevant message for today's ever-changing world
At the time he was called to UCC, Caleb was the youngest Senior Minister in the congregation's history. During his time as Senior Minister, he has led the congregation through tremendous growth and renewal.
Caleb is the author of
The Great Digital Commission: Embracing Social Media for Church Growth and Transformation
(Cascade Books, 2021), which quickly reached #1 on Amazon's New Releases for Church Growth and was awarded a Silver Medal Illumination Book Award in Ministry/Mission. His views on the intersection of religion and public life have been featured in diverse local, national, and international publications. In addition to his role at UCC, he is the Co-Executive Director and board member of Progressive Christianity.org, treasurer of the national board of Jubilee USA Network, and Co-Host of the popular podcast "
The Moonshine Jesus Show
", which explores pop culture, theology, and politics from progressive Christian perspective.
Before coming to UCC, Caleb served churches and nonprofits in Missouri, Connecticut, and Washington, D.C.